Welcome Students! Please sit Down at your seats, wherever you want!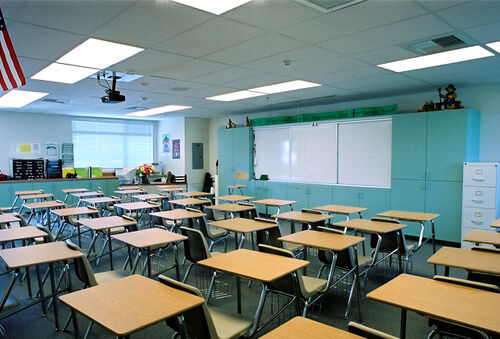 The Landing is the nickname for the Earth Classroom. Here, students of the Earth Element learn how to control and advance their abilities. There are several different courses for the Earth students to partake in.
There is a message on the board for you, it reads:
Welcome students! My name is Kinitey Gnoder, and I will be your Earth Teacher. Find a seat anywhere you like, we don't have permanent seats in this class. My desk is to the right, in front of the windows, if you need to ask a question, come find me before class starts!
Students with the element of Earth:
Daily Agenda and Lesson Schedule
Sit down please! Take any seat you like!
Agenda
Take Attendance
Take out and review any homework from the previous day
Please take out your textbooks and flip to the page number on the board
Read and Memorize the tactics and strategies we'll be practicing today
Find a partner for today's activity
Lessons and Schedule
1st Years: We are covering Beginners Unit I for this semester (8:30 am)
2nd Years: We will be reviewing strategies from 1st year and starting our Intermediate LV1 Unit I (9:10 am)
3rd Years: We will be reviewing, and I will give you a quiz to see what you remember (9:50 am)
4th Years: We will immediately start Advanced Unit I and skimming over Advanced Unit II (10:30 am)
5th Years: We will be discussing the next three levels, including Apprentice (11:10 am)
6th Years: We will be preparing our for our presentation for the 1st Years (11:50 am)
7th Years: We will be starting dueling
Levels of Power Control:
Beginner (1st Year)
Intermediate (2nd Year)
Advanced (3rd Year)
Apprentice (4th Year)
Master (5th Year)
Levels of Power Control are the levels characters are ranked by with the control of their powers. They take special classes for their control level (which is usually determined by year) depending on what element they are. These are one of the courses Earth students take part in. It is mandatory that all students take part in this.